How to experience the ultimate NZ road trip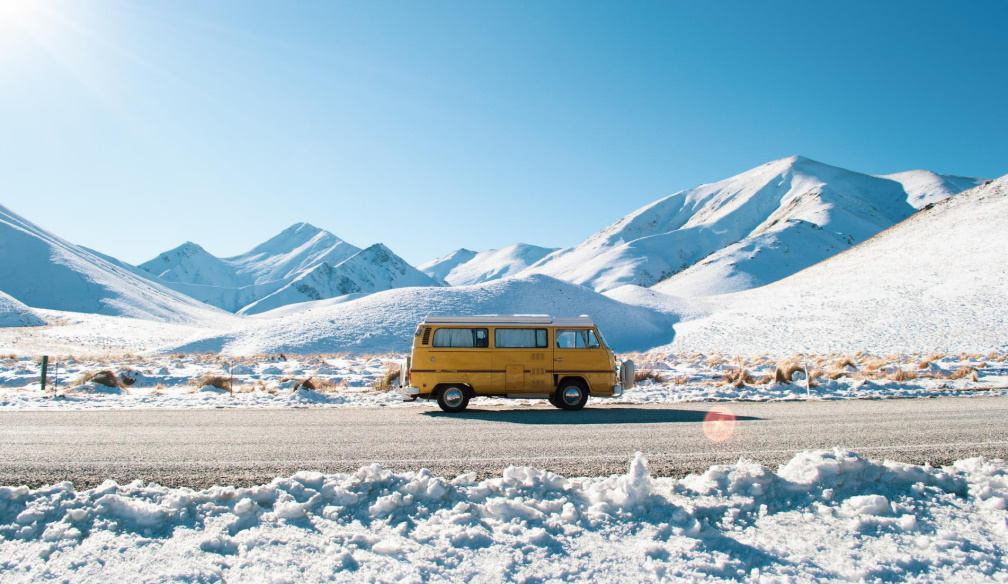 With New Zealand's borders recently reopening to Aussie travellers, Camplify has the perfect road trip destinations and vans to accommodate any keen explorer. From road trips that will span over a week to some stretching across a month, there's sure to be one that will suit your holiday time.
North Island to South Island (Auckland to Christchruch)
Total Distance: 3860km
Recommended Days: 14 to 30 days
Experience all of New Zealand's best sights and attractions with the ultimate North to South Island road trip.
Start in Auckland and pick up Driving the Dream or Awhimai and make your way to the northern tip of Cape Reinga, passing through the Bay of Islands and historical sites like the Waitangi Treaty Grounds. Return south to the Coromandel Peninsula before spending a few days in Rotorua and Lake Taupo, both internationally renowned for their geological wonders. Gorge yourself on world-famous wine and produce in the Hawkes Bay Region before visiting top-rated attractions in the capital of Wellington.
After a short ferry ride to the South Island, explore both Nelson Lakes and Abel Tasman National Park before tracing the west coast to Franz Josef and Fox Glacier. Drive over the snow-capped Remarkables to the 'adventure capital of the world', Queenstown. This will serve as your base for visiting NZ's highest-rated tourist attraction, Milford Sound. Return to Christchurch via Lake Tekapo or Dunedin.
North Island
Total Distance: 1962km
Recommended Days: 10 to 14 days
This 2-week North Island road trip offers a tonne of sandy beaches, bubbling hot springs, fine dining and magnificent museums.
After visiting Waiheke Island and the War Memorial Museum in Auckland, pick up R2 D2 and head north to the Bay of Islands. Visit historic towns like Russell and Kerikeri before camping overnight at Cape Reinga. Return south via 90 Mile Beach and Waipoua Forest before exploring photo-famous sites like Cathedral Cove and Hot Water Beach on the Coromandel Peninsula. Don't forget to duck your head when visiting Hobbiton Village and the famous Waitomo Glowworm Caves!
After a few days on the road, you'll get the opportunity to relax in a thermal hot pool in Rotorua or cruise Lake Taupo to the Mine Bay Maori Rock Carvings. Things only get better once you arrive in cities like Napier and Wellington, both famous for their eateries, cellar doors and trendy bars. Whilst in the capital, don't forget to visit New Zealand's national museum and art gallery, Te Papa Museum.
South Island
Total distance: 2316km
Recommended days: 10 to 24 days
This New Zealand South Island road trip passes through some of the country's best national parks and alpine regions.
Start in Christchurch and pick up Larry and take a day trip into Arthur's Pass National Park, the heart of the dramatic and rugged Southern Alps. Take a whale-watching tour in the sunny town of Kaikoura before trying a range of internationally renowned Sauvignon Blancs from the Marlborough region. Spend a few days exploring the breathtaking Nelson Lakes and Abel Tasman National Park before following the West Coast to Paparoa National Park.
Take your time soaking in the onsen hot pools in Queenstown before continuing south to Fiordland National Park. Explore the fjords, glaciers and forests by foot or jet boat before heading even further south to the historic cities of Invercargill and Dunedin. Finally, spend a day wandering the sunny French streets of Akaroa before making the short return drive to Christchurch.
Queenstown to Christchurch
Total Distance: 800km
Recommended Days: 2 to 5 days
This Queenstown to Christchurch road trip through the heart of the South Island is less travelled but just as rewarding as alternative coastal routes.
Beginning in Queenstown and picking up Kōwhai, be sure to ride the Queenstown Gondola before continuing to Arrowtown, a living gold rush settlement built in 1864. Grab a photo of the Instagram-famous Wanaka Tree before driving the highest highway on the South Island through the dramatic Lindis Pass.
Take one of the 10 short walks around the base of Mount Cook (New Zealand's tallest mountain) before stopping at Lake Tekapo and admiring the Southern Lights from Mount John Observatory. Watch the sunrise over the stunning Church of the Good Shepherd before exploring the colonial cottages dotted around Akaroa, the only French settlement in NZ. Finally, spend a few days visiting top-rated attractions in Christchurch.
Far South Coast
Total Distance: 1068km
Recommended Days: 7 to 14 days
The lush Southern Coast of the South Island is less visited by tour groups, making it perfect for travellers wanting to experience the real New Zealand.
From Queenstown, it is easy to access some of the country's best ski resorts located in the Remarkables. Pick up Tiaki and after a few days shredding the slopes, take a jet boat ride around Fiordland National Park to Milford Sound or descend into the depths of the Te Anau Glowworm Caves.
At the southern tip of New Zealand, you'll find charming Victorian and Edwardian cities like Invercargill and Dunedin that are rich in Maori and Scottish history. Follow the coastal roads around the wild and woolly Catlins, where hoards of sunbathing seals, sea lions and penguins line the beaches. Finally, take a cruise to see the rare Hector dolphin off the coast of Akaroa before finishing your road trip back in Christchurch.
Coromandel Peninsula
Total Distance: 556km
Recommended Days: 3 to 7 days
A Coromandel Peninsula road trip is perfect for beach bums wanting to spend a few days in the surf, sun and sand!
Kick things off in Auckland by picking up Obi Van Kenobi and quickly make your way to the sleepy seaside village of Kaiaua Beach, famous for its legendary fish and chip shop. Take a gold mining tour in the town of Thames or ride part of the Hauraki Rail Trail before continuing to Coromandel. Spend a few days here lazing around on pristine beaches and be sure to ride the famous Driving Creek Railway.
Stay for a night at Waikawau on the northern tip of the Peninsula before working your way back down to Whitianga. This is one of the major tourist towns in the region and home to world-famous sites like Cathedral Cove and Hot Water Beach. Finally, finish up with a lazy day on the 4km-long Whangamata Beach before returning to Auckland.
Hawkes Bay Region
Total Distance: 422km
Recommended Days: 5 to 7 days
If you want to treat your tastebuds and satisfy your senses, this Hawkes Bay road trip is the one for you!
Start in Wellington or Hastings and pick up Fernanda and spend your first evening gorging on fresh local produce and wine in boutique restaurants and bars. Take a hike to the breathtaking Te Mata Peak or visit the world's largest gannet colony at Cape Kidnappers. Hire a bike from nearby Napier and ride around some of the vineyards responsible for producing the world's best Chardonnay.
Make your way north and visit small coastal villages like Tangoio Beach before rafting the white water rapids of the Mohaka River. Set up camp alongside Lake Waikaremoana in the pristine Te Urewera National Park before ending your road trip in the surf city of Gisborne, the first place in the world to see the sunrise each morning.
Nelson and Marlborough Region
Total Distance: 1119km
Recommended Days: 7 to 10 days
This Nelson to Christchurch road trip is all about internationally-renowned wine, sunny cities and stunning national parks.
Hire a Hare & There in Wellington and make the drive to Nelson Lakes National Park, home of the famous Lake Rotoiti Jetty and Blue Lake. Not far away is the similarly spectacular Abel Tasman National Park, New Zealand's smallest national park and host to sights like Split Apple Rock, Tonga Arches and Wainui Falls.
After a few days on your feet, kick back and relax in Blenheim, the heart of the Marlborough wine region. Spend the day riding around more than 30+ cellar doors or visit the state-of-the-art Omaka Aviation Heritage Centre. Pass through the whale-watching capital of Kaikoura before spending a few days checking out attractions like the Canterbury Museum and the International Antarctic Centre in Christchurch.
Bay of Islands and Cape Reinga
Total Distance: 924km
Recommended Days: 3 to 7 days
A road trip from Auckland to Cape Reinga via the Bay of Islands is perfect for those wanting a shorter getaway amongst the great outdoors.
Travel north from Auckland in Bernie to Whangarei, the northernmost city in New Zealand and home to the iconic Whangarei Falls. Use Paihia as your base for exploring the magnificent Bay of Islands and the Waitangi Treaty Grounds. Ride the ferry to the historic township of Russell, where you'll find New Zealand's oldest church and hotel.
After visiting 90 Mile Beach, take a short walk to Cape Reinga Lighthouse and look out over the colliding currents of the Pacific Ocean and the Tasman Sea. On your return to Auckland, follow the west coast and visit Waipoua Forest, home to the 2,000-year-old Tane Mahuta (aka The Lord of the Forest).
Bay of Plenty
Total Distance: 1329km
Recommended Days: 5 to 7 days
Take a week-long Bay of Plenty road trip to some of New Zealand's best beach towns and be one of the first people in the world to watch the sunrise.
Hire a Concord Sally in Papamoa Beach and stay for a few nights in the serenity of the Coromandel Peninsula. Follow the Bay southward to Waihi Beach and take on one of NZ's Must-Do Walks, Karangahake Gorge. Continue to the flourishing port city of Tauranga and spend the day at the Waimarino Adventure Park.
It's bound to be a sunny day in Whakatane, so set a few hours aside for the outstanding Ngā Tapuwae o Toi walkway. Stop overnight in Te Araroa for your opportunity to see the oldest and largest pōhutukawa tree in NZ. Be sure to get up for sunrise in Gisborne before heading back to Auckland via the rolling green hills of Matamata.