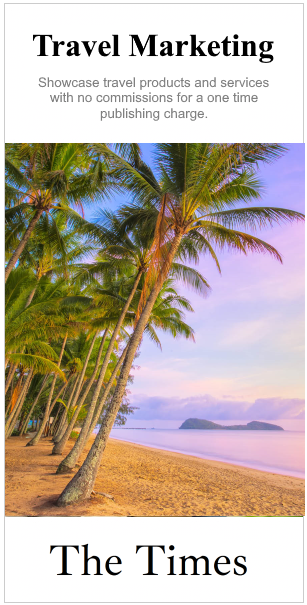 TheTimes
is an ideal online platform to showcase travel, experience and accommodation products or services.
Advertise on The Times to be seen among a higher class of products and services. Avoid the damage to your brand by not being seen on deal sites and discount package providers.
Direct bookings are how travel and accommodation providers increase their profit margins and gain control of their customer's contact details.
How it work works.
1. For a fixed fee, The Times showcases travel products and services with unlimited text, numerous images, embedded video content and price details.
2. There is no commission payable by merchants who choose to promote their products or services on The Times.
3. Campaigns can run for a day, a few days, a week or more or until sold out.
What are the benefits?
Marketing on The Times helps travel, accommodation and experience businesses to gain a vast increase in community awareness.
Self made fame means more direct bookings.
* Save on commissions
* Gain control of your customer's contact information.
* Deal directly with your customers or guests. You can't do that with the big booking businesses.
* Remarket directly to your customers and cut out the expensive OBA operators.

What to advertisers receive?
1. An article based showcase of your product, accommodation or service.
2. A link to your promotion pages on The Times from our social media pages.
3. A banner of your own displayed for the duration of your marketing campaign, on other high traffic and high domain authority websites in our group.
4. All leads are relayed directly to the operator.
5. Inclusion in email marketing material sent to consenting subscribers to our "The Times Newsletter".
How to get started
Advertise on The Times for a one time publishing production charge.
You choose how long your travel promotion remains online.
Contact The Times on 1300 660 660 or email editor@TheTimes.com.au to find out more.