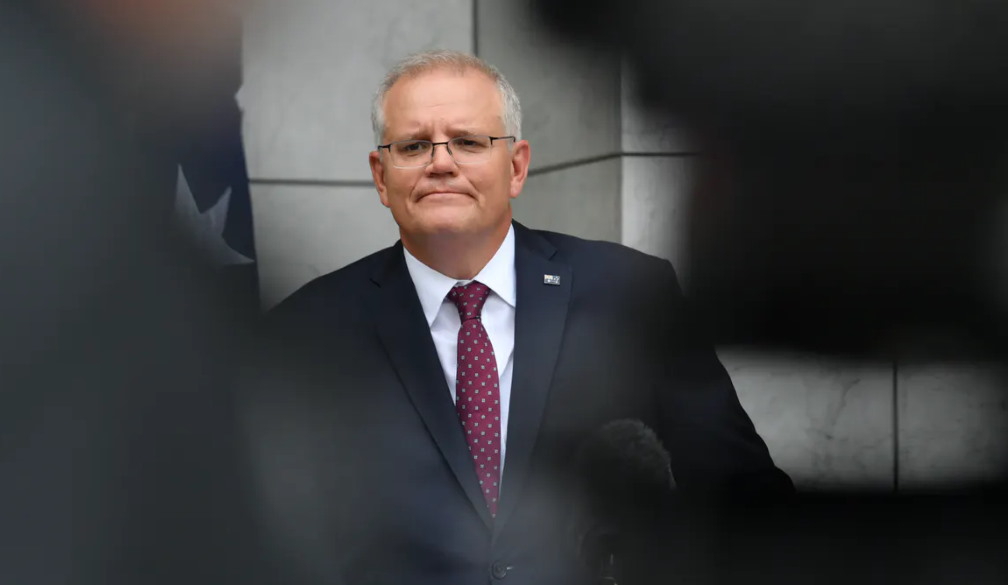 SABRA LANE: The Prime Minister Scott Morrison joins me now. Good morning and welcome to the program.
PRIME MINISTER: Good morning, Sabra.
LANE: Mr Morrison, at the start of the campaign you said this election wasn't a popularity contest and now you admit you're a bit of a bulldozer. When did you realise this?
PRIME MINISTER: Well, I've known I've always been a bit of a bulldozer. I mean that's been very helpful for many of the issues that I think we've had to deal with, particularly in the last few years or going back to when, you know, I had the task of stopping the boats and the chaos we saw in the borders after Labor was last in power. I mean, it's required that strong leadership. And what I'm saying is that as we go into this next period after the election as we put the pandemic behind us, there are going to be great opportunities. And we've been setting up for those over the last two and three years investing in skills, investing in manufacturing. And so we are going to move to that new gear, that higher gear. That means we need to protect against the threats. And and they are real as we know with the economy and national security, but seize the opportunities as well.
LANE: Is it a sign, though, that, you know, you're desperate, you'll say anything to try and get re-elected? And isn't this an acknowledgement that you personally are dragging the Liberal Party vote down?
PRIME MINISTER: No, I'm just being honest about who I am and what I'm about and how I do the job and why strength is necessary and why as you move into a new phase, you need to move into those other gears which governments always have to do to seize opportunities, but continue to ensure the strength in our economy and the strength in our national security.
LANE: You've said a few times that you want a second term, that you're just getting warmed up. But isn't the truth that the Coalition is asking for a fourth term? Why fudge that?
PRIME MINISTER: Well, I'm saying I stood for election at the last election. I'm the first Prime Minister to go to two successive elections, and I'm just sort of talking about an obvious fact.
LANE: Turning to your policy to let first home buyers use their super for housing deposit. If it is such a good idea, why didn't the Government do this in any of its previous nine Budgets?
PRIME MINISTER: Well, in previous Budgets we put in place the First Home Super Saver. We put in place the HomeBuilder Program through the course of the pandemic. We put in place the National Housing Finance and Investment Corporation. We have been working as, and the Home Guarantee Program which I took to the last election, which all of those policies combined, has put over 300,000 Australians into their own homes, as we promised we would. And now we are going to the next step, which does two things. First of all, it extends our downsizing plan, which means that those over 55 can get two years grace period after they downsize their house and they can transfer that money that they had from downsizing into their superannuation. Now we've already seen some $9.4 billion do that, $9.4 billion transferred into super. The majority being women by the way. 55 per cent of what's going in is for women improving their superannuation in retirement, that frees up housing stock, which deals with supply issues -
LANE: The Assistant -
PRIME MINISTER: On the other side.
LANE: The Assistant -
PRIME MINISTER: And the other - sorry, go on.
LANE: Sorry. The Assistant Governor of the Reserve Bank, Luci Ellis, told a Parliamentary Inquiry that allowing people to access their super to buy homes would result in them spending more on housing. And respected economist Saul Eslake says it will result in higher house prices, not in higher home ownership rates. So why do this?
PRIME MINISTER: Well, I'd only explain one half of the policy which was about increasing supply. The reason house prices go up is because there's not enough supply and there's too much demand. It's simple. It's simple economics. And that's why our policies just don't deal with helping people buy a home. They actually help people who are looking to get and downsize their home and put more homes on the market. But going to the actual policy on super, what we're doing is two things. We're saying you can access your super to increase the size of your deposit, which means that the loan you take out is less and you have more of a chance to get into that housing market. You can only access up to 40 per cent of what's in your super balance and when you sell your first home, you put the money back into superannuation with the capital gain and that means you go into retirement with your retirement savings preserved. Because we also know from retirement incomes reviews that people who go into retirement, who own their own house are much better off. And so we're doing both, preserving retirement incomes and enabling Australians to get into the housing market and not sit on the sidelines while they watch a super balance that can't help them buy a house.
LANE: Just two weeks ago, you claimed that Labor's share equity policy would cause housing prices to increase because you'd be bidding against people who had the Government helping them. What do you think will happen to house prices when people get access to $50,000 from their super?
PRIME MINISTER: The Labor Party is talking about owning 40 per cent of your house. That's around $300,000 -
LANE: Sorry. And the substance of that question -
PRIME MINISTER: ... of Government money.
LANE: The substance of that question.
PRIME MINISTER: [inaudible] policies could not be more different. What we're doing is allowing people to use their own money. So, it's their own money, it's not the government's.
LANE: And what -
PRIME MINISTER: One of the -
LANE: And -
PRIME MINISTER: And this is one of the key differences between Labor and the Liberal Party -
LANE: Sorry, Prime Minister.
PRIME MINISTER: ... we believe your super is your money, not the Government's.
LANE: What, what will happen to housing prices?
PRIME MINISTER: I, look because of the balance of policies that we have, which means we're freeing up housing stock with our downsizing policy. And we've got a balanced arrangement for super, which means you can only access up to 40 per cent and you have to put it back in the super. It means this is a balanced, responsible plan which we've thought through, which we think minimises any potential impact on house prices.
LANE: And where's your modelling to show what will happen to house prices as a result?
PRIME MINISTER: Well, as I said the main thing that drives up house prices is supply and demand. If there's not enough supply, that's what's driving house prices up.
LANE: We heard on -
PRIME MINISTER: What we're doing is enabling, what we're enabling is people who are sitting on the sidelines unable to get into the housing market because they can't access their own savings, which they can responsibly decide how much they want to use of that. And the bank still has to give them the loan they need to have a history of saving. So there are lots of safeguards and guardrails there to protect against the very things from a policy design point of view that you'll highlight.
LANE: But you can't say what will happen to house pricings?
PRIME MINISTER: No, but what I am saying is I think the balancing of all of these factors means that any potential risk on that side is mitigated.
LANE: Just on AM last week we heard about people having to camp in tents even though they had full time jobs because they can't find rent that's affordable. This is in Bundaberg. What's the Government doing right now to help these people?
PRIME MINISTER: $5.5 billion in the National Housing Finance and Investment Corporation, which has supported almost around 30,000 - affordable and rental accommodation are being provided through community housing providers. About $1.8 billion a year goes to state and territory governments to support their policies to support social housing and homelessness funding around the country. Five, over $5 billion every year in rental assistance, supporting almost two million Australians every year to help with their rental bills each and every year. And we kept negative gearing in place, which is what actually enables people to build and own investment properties, which provides rental stock onto the market. At the last election, Anthony Albanese wanted to get rid of it.
LANE: If moderate Liberals like Josh Frydenberg, Trent Zimmerman and Dave Sharma lose their seats to Independents, will your legacy have been to leave the Liberal Party without a moderate wing and a potential Prime Minister?
PRIME MINISTER: My Government is the Government that brought together the entire Coalition to commit to net zero emissions by 2050. No-one before me did that, no-one before me did that on our side of politics.
LANE: And the substance of that question, if they lose their seats, will that be your legacy?
PRIME MINISTER: No what, no what that will be a product of, and I don't believe that will occur, because I think at the end of the day, when people think about the chaos of what is being put forward by Independents in that seat, the instability and the weakness that will put in the Australian Parliament at a time when Australians need that certainty, which need that strength, that is not something that will make people's lives in those areas better, it'll make it worse, it will make it harder and it'll put further strains on their fellow Australians all around the country who can't afford a Labor Government and can't afford a chaotic Parliament which makes Australia weaker. So there is choice for people to make, but what our Government has done is move forward to ensure, particularly in the area of emissions reduction, where around 20 per cent emissions reduction down, we have a net zero commitment with an actual plan to achieve it, $22 billion invested over the next 10 years. We've met and beaten every single target we've set and we will continue to do that with practical plans that help us deal with the realities of climate change, not just the rhetoric.
LANE: Prime Minister, thanks for your time this morning.
PRIME MINISTER: Thanks a lot, Sabra. Good to talk.