Hungry Jack's comes for the fried chicken crown with new burger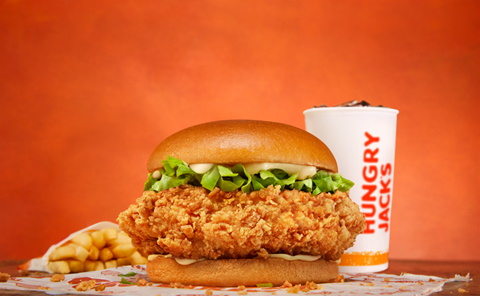 Aussies find one true love in new fried chicken burgers
Hungry Jack's launch Jack's Fried Chicken range as research shows that Aussies are yearning for bigger and better fried chicken burgers
Buckle up - Australia is set to fall head over heels as burger experts Hungry Jack's today announce a new range of burgers that will steal the nation's hearts. Introducing Jack's Fried Chicken burger range - three bigger, thicker, crunchier, and juicier burgers that prove the burgers truly are better at Hungry Jack's.
Jack's Fried Chicken has come at the perfect time, as the nation's obsession with fried chicken reaches new heights. Researchi shows that over 2.2 million Aussies eat fried chicken several times a week or at least once a day, and that almost half (48%) of Aussies are willing to give up one of life's great pleasures to get their hands on a good fried chicken burger. This includes going to the lengths of giving up good night's sleep (27%), their actual partner (19%), or even sex (21%).
Australia has a rapidly growing group of passionate fried chicken burger lovers, but 85% of them believe fried chicken burgers in Australia could be improved. Aussies are begging for chicken burgers to be bigger (28%), thicker (23%), crunchier (42%) and juicier (48%).
To meet their demands and make a fried chicken burger worth falling in love with, Jack's Fried Chicken was put through over two years of rigorous testing, perfecting an original recipe set to rival all competitors. The new range will no doubt satiate Australia's craving and make them fall in love, with a burger that is a whopping 40% bigger than its closest rival. 
Jack's Fried Chicken burger range features Hungry Jack's thick, crunchy, and juicy fried premium whole-breast chicken fillet, in a buttery brioche bun, and includes three varieties:
·       Jack's Fried Chicken Classic with crispy lettuce and mayo.

·       Jack's Fried Chicken Spicy with crispy lettuce and new Spicy Signature Sauce.

·       Jack's Fried Chicken Cheesy Bacon with crispy lettuce, mayo, cheese, and bacon.
Hungry Jack's Chief Marketing Officer, Scott Baird said: "We know Aussies are craving bigger, juicier fried chicken burgers, so Hungry Jack's is taking the lead with the biggest, thickest, and juiciest fried chicken available. Aussies are absolutely going to fall in love with Jack's Fried Chicken Burgers."
Jack's Fried Chicken burger range is available from Hungry Jack's stores nationwide from today, available to pick-up in-store, collect at drive-thru or order online for delivery on the Hungry Jack's App or through Menulog, Uber Eats and Deliveroo.
*  Hungry Jack's YouGov study September 2021. The study surveyed a National Representative sample of 1,033 Australians, aged 18 years and over
About Hungry Jack's
Hungry Jack's has been the home of the famous flame-grilled Whopper in Australia for more than 50 years. Australians enjoy visiting Hungry Jack's network of more than 440 restaurants nationwide for great tasting, fresh food. From delicious flame grilled 100% Aussie beef burgers to the succulent chicken menu items, brekky wraps and the great value Stunner meal, Hungry Jack's is the destination for classic favourites and innovative new flavours. To learn more about Hungry Jack's, please visit
www.hungryjacks.com.au
or follow us on Facebook and Twitter.