Our current methods of food production are unsustainable – in his latest book, George Monbiot considers the alternatives
Written by

Petra Marschner, Professor of Agriculture, University of Adelaide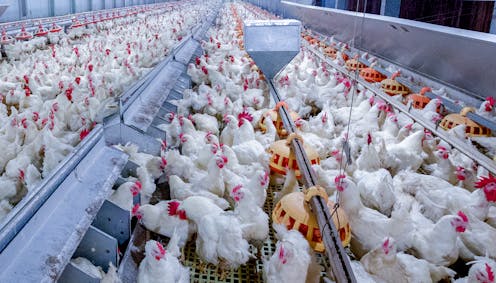 In his new book Regenesis[1], journalist and environmental activist George Monbiot describes problems associated with agriculture now and into the future. He also gives examples of how agriculture can be improved to produce healthy food sustainably. He does this in an engaging manner by combining his own experiences with an impressive knowledge of the literature.
Review: Regenesis: Feeding the World Without Devouring the Planet – George Monbiot (Allen Lane)
In his opening chapter, Monbiot describes digging into the soil in his orchard. He marvels at the amazing soil life and its diversity, ranging from macro-organisms such as snails, earthworms and beetles, to "mesofauna" such as mites, nematodes, bacteria and fungi. For each group, he describes their functions and interactions with other soil organisms and plants, stressing the importance of a diverse and functional community.
The health of the soil, he emphasises, is crucial for our survival, because processes in soils regulate to a large extent the world above ground.
shutterstock
Monbiot observes that such complex ecosystems cannot be understood simply by studying individual components, and he links this insight to the threat of global warming for food production.
The historical shift in Western diets from a variety of plants to a few major crops (such as wheat, rice, maize and soybean) has created the "standard farm", which grows only a few crops and requires pesticides and chemical fertilisers to maintain productivity. This has created vulnerabilities in the system, which is beholden to markets and to suppliers of seeds, pesticides and fertilisers. To this can be added the threats of drought, erosion, loss of organic matter, and contamination.
Monbiot describes the environmental flow of nutrients such as nitrogen and phosphorus, to draw a picture of agriculture's relationship to other systems.
He discusses how effluent from specialised dairy, pig and chicken farms containing animal excrement leads to high nutrient loads in waterways, which in turn stimulates algal growth and leads to the death of other aquatic organisms – a process known as "eutrophication[2]".
Read more https://theconversation.com/our-current-methods-of-food-production-are-unsustainable-in-his-latest-book-george-monbiot-considers-the-alternatives-184048