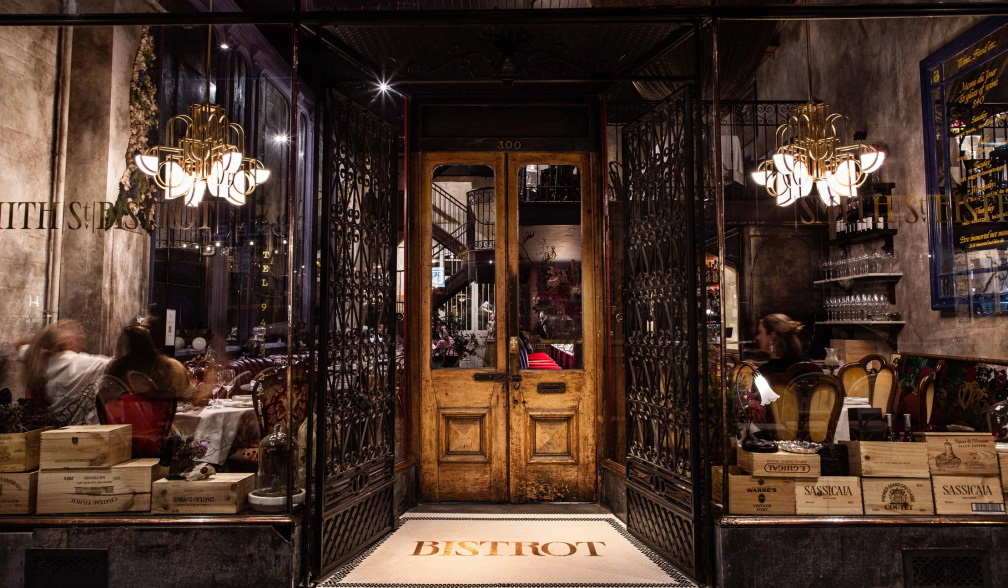 A new Collingwood restaurant from Scott Pickett celebrating his love of classic French cuisine
Smith St Bistrot by the Scott Pickett Group has opened its doors at 300 Smith St, offering a French bistrot experience in Melbourne's inner-north. The bistrot delivers a melange of Pickett's favourite French dishes enjoyed from Lille to Lyon, while interiors celebrate the building's eclectic history with the sentiment of a '20s Parisienne bistrot.


Pickett's love affair with classic French cuisine began at age 18, working with legendary Chef Restaurateur Philippe Mouchel, before honing his classical cooking skills in some of the most rigorous Michelin-starred kitchens in London, which included three years under the tutelage of Philip Howard at The Square.  

"French food has always been a cuisine I enjoy, not only to cook but to eat in bistrots all around the world. It's romantic food that can either be very simple or painstaking to master, but that's the beauty of it. I think there's always room to add a touch of my signature style and that's what I'm doing with Smith St Bistrot," says Pickett. 

Pickett's take on a French bistrot, with Daniel Southern (Bar Margaux, Vue Group) at the kitchen helm, offers a menu of classic French food and drinks with some unexpected twists. Generous service from Restaurant Manager Tash Sorensen (Saxon and Parole, Ghost Donkey in New York, Embla in Melbourne) and her team come together to bring European decadence to the locale whether diners are enjoying a drop-in drink or extended bistrot dining experience.

Smith St Bistrot will have a $40 rotating 'menu du jour' including a glass of wine, or guests can dine à la carte with dishes including:
Caviar service classique with blinis, chopped egg, sour cream etc
Pâté aux foie de volaille, soused cherries & cornichon
Entrees:
Salade lyonnaise
Moules au safran 
Vol-au-vent d'escargot, snails, parsley, garlic & puff pastry 
Mains:
Poisson entire, grilled flounder, warm sauce gribiche 
Filet de steak au poivre, dry-aged eye fillet, peppercorn sauce 
Tarte aux légumes verte
Fricassée de poulet à l'estragon, braised hazeldene chicken, tarragon & carrots
Desserts:
Soufflé framboise
Crème caramel 
Mousse au chocolat
Group Beverage Director Clint Fox has crafted a wine list that offers significant French houses and varietals, yet also considers the local diner with an inclusion of organic, sustainable, natural and biodynamic wines sourced locally and overseas. 
In the same theme, a cocktail list by Tash Sorensen is the perfect blend of classic French drinks with a modern Australian tilt. Expect to see patrons sipping on French 125s, Rhum Boulevardiers, and Riviera Spritzs, as well as 'The SSB' – a bespoke house-cocktail that is dry, herbaceous and refreshing and served in an etched highball glass. Sorensen specifically designed The SSB to be an easy companion to every dish.
Working hand-in-hand across the design, Pickett and Sarah Townson of Anthology Studio have taken immense care and delivered unique detail to the 1888 heritage building. From the creation of a spiral stair and mezzanine level, to sourcing antiques from French chateaux and crystal, crockery and cutlery from Le Bristol Paris – the significance, style and soigné of a Parisian bistrot has been executed beautifully, including Townson hand-creating bespoke pieces. 
As guests enter the bistrot through wrought iron gates they are greeted by floor-to-ceiling antique mirrors above red leather scalloped banquettes and marble-topped tables. On the walls living moss – which has been treated and dyed in greens, blues, blacks and neutrals – creeps along exposed brick walls and descends the stairs. The main dining room seats 40 guests with a view to the abundant bar framed with the original brass top kept as a tribute to the history of Saint Crispin. 
Ascending the spiral staircase encircled by an ornamental wrought-iron balustrade, guests are led to the new mezzanine level. Seating 22, the spot is primed for people-watching overlooking the main dining room. 
Continuing up the staircase reveals a private event room, 'La vie en Rose' – spacious enough to accommodate parties of up to 70 guests – with an expansive bespoke mural hand-painted by Townson inspired by a midnight storm in the Mont Blanc Forest, which also includes a gnome who bears a striking resemblance to Pickett. 
Initially open for dinner seven days and soon to open for end-of-week and weekend lunches, Smith St Bistrot will host locals for drinks that turn into dinner, from casual menu du jour dining like the 'SSB wagyu cheeseburger' through to a lavish French-dining affair of huitrês and caviar to soufflé framboise.
Opening hours:
Dinner: 7 days, 5.30 pm till late
Lunch: open from March, Thursday/Friday to Sunday, from 12 pm
Brunch: opening TBC
Address: 300 Smith St, Collingwood VIC 3066
Website: https://smithstbistrot.com.au/
Social media handle: @smithstbistrot
About Scott Pickett 
With classical training and an inherent understanding of seasonality from his roots in regional South Australia, Chef Restaurateur Scott Pickett is a leading figure in Australia's hospitality industry. Honing his skills in some of the most rigorous Michelin-starred kitchens in London, Pickett opened his first venue in Melbourne in 2011, and has gained a substantial following since.  In response to the growing appetite for his cuisine, Pickett now owns and operates eight Victorian venues — Chancery Lane, Le Shoppe, Longrain, Estelle, Matilda 159 Domain, Pastore, Pickett's Deli at Melbourne Airport and is soon to open The Continental Hotel Sorrento, his first establishment away from Melbourne city. 

W: www.scottpickettgroup.com.au