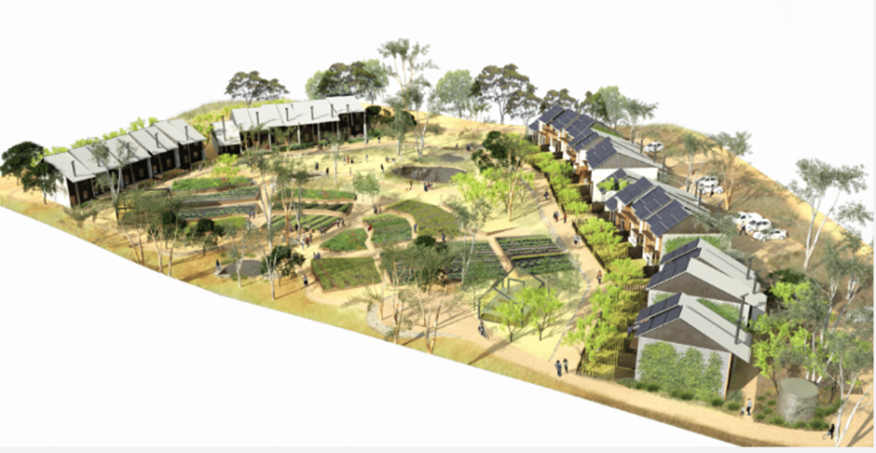 INDUSTRY-LEADING VICTORIAN ECO VILLAGE ANNOUNCES STAGE FOUR RELEASE
One of Victoria's premium sustainable housing projects, The Paddock, set on a picturesque 1.4ha site in Castlemaine, is unveiling its latest stage four release, 12 more homes boasting a suite of liveability and resilience features to adapt to current and future climate change challenges.
The Paddock showcases its industry leading initiatives including 8.3-star energy efficient homes this varies, which are naturally comfortable all-year round, native gardens and a holistic community environment.
The ecovillage with a strong focus on connection to nature, low-impact living and fostering a sense of community, was designed to the Living Building Challenge (LBC) environmental framework. The LBC is a comprehensive, holistic design standard consisting of seven performance areas including place, water, energy, health, happiness, materials, equity, and beauty.
The Paddock has implemented a number of leading energy efficiency initiatives in all the houses that increase comfort levels while dramatically reducing energy costs. All homes at The Paddock are averaging over 8-star energy efficiency, through a combination of good orientation, excellent insulation of floors, walls and ceilings, high thermal mass, double glazing and strategic shading.
Added to this, all homes feature solar power, efficient all-electric fit out, and have replaced costly gas with heat pump heating, cooling and hot water systems and induction cooktops. The result is homes that are effortlessly warm in winter and cool in summer and use around 80 per cent less input energy than typical, new Victorian homes built in 2020.
The average daily solar generation per household in 2020 was 15.5kWh, with total consumption from the grid and solar at 9kWh – with a surplus of 6.5kWh per house per day. With eight occupied houses over a 12-month period, there is approximately 15 tonnes of emissions reduction. When the project is complete in late 2022, it is anticipated that the annual emission reduction will be approximately 50 tonnes of CO2 per annum.
The Paddock Eco Village is a thriving and passionate community - which will, when completed, have 27 houses and a community centre -designed for highly sustainable living in attractive, energy efficient houses, surrounded by food growing and recreation areas.
The project is being sold off the plan in four stages: Stage One was completed in late 2019, Stages Two and Three will be completed this year, and the 12 houses in Stage Four will commence construction late in 2021 for completion in 2022. Houses in Stages Four are currently being designed by leading local architect, Geoff Crosby, CROSBY Architects, with a mix of one bedroom to four bedrooms.
According to Jan Elder, a resident of The Paddock since Christmas 2019, living in the ecovillage provides a beautiful sustainable home that is warm in winter, cool in summer and soundly built with recycled, local and earth-friendly materials. However, life here provides  so much more than good housing. 
"One of the great benefits of living here is being part of a friendly, supportive community of people of various ages and different backgrounds. Though the community provides a convivial social environment for a single person, I also have as much privacy as I want.  I am also secure in the knowledge that my choice to live here is reducing my carbon footprint as well as reducing power bills. I also have the pleasure of being able to grow fruit and vegetables in our wicking beds and participate in developing the gardens that are designed to enhance the local ecology - regenerating local plants and providing habitat for birds, insects and other local fauna."
Neil and Heather Barrett, founders of The Paddock, are thrilled to see the growth and dynamism of the eco-village as it continues to evolve and take shape. "The unique design elements of The Paddock simply make it a great place to live. Comfortable and stunning homes which are highly energy efficient, complemented with native gardens in a masterfully planned community, makes The Paddock a unique and high-sought after place to live. We are confident that we are setting a benchmark in how a sustainable community can be lived and celebrated."
Neil and Heather both received OAMs for their service to the built and natural environments in the latest Australia Day awards.

At a glance:
There will be 25 double storey and two single storey houses in total, ranging from one to four bedrooms

There will be a shared electric car charging station and individual stations, as required, installed later this year.

There will be two shared laundries at The Paddock

Houses are attached and have been thermally and acoustically insulated well above regulations

natHERS above 8 star energy rating

Private gardens vary in size with the size of house and range from 25m2 to close to 40m2




Around two-thirds of the total land will be dedicated to shared food gardens, orchards, planted wetlands, small wetlands and native gardens. Car parking is limited to the perimeter, close to the back of each house, creating a central garden area that is both safe and serene

House specifications:

HOT WATER
RENEWABLE ENERGY
4kW solar system with Fronius Primo 4.0-1 inverter

The Paddock has a micro-grid to monitor solar generation and grid imports, and bill each household according to its electricity usage
WATER SAVING
Each group of dwellings has a shared 27,000L galvanized rainwater tank plumbed to toilet cisterns' rainwater is also supplied to the shared laundry used for non-drinking purposes.

Minimum WELS 4-star water-efficient plumbing fittings

Greywater system for future garden irrigation system
PASSIVE DESIGN
North-facing double glazing for winter solar gain

Reverse brick veneer construction for thermal mass

Battens and eaves to north for summer shading

Design for effective cross ventilation and night purging of hot air
ACTIVE HEATING AND COOLING
High efficiency reverse cycle A/C units to living spaces

Aeratron AE3+ reversible ceiling fans in living area and bedrooms
BUILDING MATERIALS
Recycled bricks

FSC-certified plantation pine framing

White Cypress external cladding and fencing

Colorbond™ corrugated roofing in a light colour for energy efficiency

Recycled Victorian Ash floorboards from The Salvage Yard, Castlemaine

Recycled hardwood kitchen island benchtop

Corian reconstituted stone benchtops in kitchen and bathroom

All cabinetry made from moisture-resistant, EO (very low formaldehyde) MDF

Recycled timber decking

HDPE stormwater, blackwater and greywater pipes (eliminating PVC within title boundaries)
WINDOWS AND GLAZING
FSC-certified Victorian ash and blackbutt framed double-glazed windows and doors from Bayview Timber Windows
LIGHTING
PAINTS, FINISHES AND FLOOR COVERINGS
Haymes low-VOC paints

Osmo Polyx Hardwax Oil to recycled hardwood kitchen island benchtop

Livos natural oil sealer to floorboards

Pure wool carpets to bedrooms

Quantum Aqua oil to façade timbers
OTHER ESD FEATURES
All-electric house with induction cooking

Walking distance to town centre and train station

Living Building Challenge Petals are at the heart of the design and build of the project

Community house including meeting room, shared laundry, guest bedrooms

Future shared workshop, vegetable gardens, orchard, wetlands and native gardens

Provision for future e-bike and electric vehicle charging
Site visits
19 Reckleben Street, Castlemaine
16th and 23rd May at 12 noon and 2pm
Register: 0419 327 791
Ends