Australian clinical trial into Phimosis may help change male circumcision options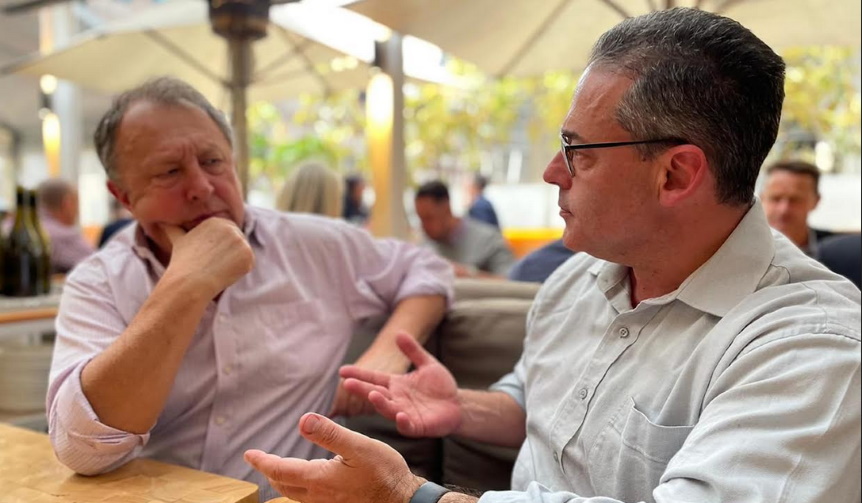 Lockdowns let men address a personal, sensitive issue at home


An Australian invention to treat Phimosis – the painful and embarring medical condition where an  uncircumcised man's foreskin does not retract as it should – presents the perfect at-home lockdown project,  but leading surgeons are asking men to enrol in a clinical trial to help change adult circumcision guidelines.  
Phimosis may directly affect around 1M Australians (approx. 15% of uncircumcised Australian men)1,2.3

•

Current treatment guidelines are limited to a steroid cream or an adult male circumcision

•

World first conservative adult Phimosis treatment clinical trial - now recruiting Australian male patients  
Phimosis is an under-reported medical condition, with many men not knowing they have a problem and thinking  that they are normal. Traditionally, when men living with Phimosis seek treatment early, they are given limited options: to put up with the pain and discomfort, perhaps try a topical steroid cream to loosen their tight and non retractable foreskin, or, more likely, be referred to a urologist for painful adult male circumcision surgery.  
For those that do realise they have a problem, many are too ashamed to seek medical help as they do not want to  undergo a circumcision. This means they are also likely to avoid more routine men's health check-ups.  
While Phimosis "officially" affects about 1% of adult uncircumcised men worldwide, it is thought that the incidence  is more likely to be between 10-15%. With around 75% of Australian men not circumcised, there may be a million  Australian men living with the pain and embarrassment of Phimosis today.1,2.3 Plus, with documented links  between phimosis and penile cancer, it really is something that should be addressed in a timely manner.4  
World first clinical trial of conservative Phimosis treatment 
Two leading Australian urologists Professor David Gillatt, Macquarie University Hospital, Sydney, and Associate  Professor Eric Chung, Princess Alexandra Hospital, Brisbane, are currently assessing the efficacy, safety and patient  satisfaction of a TGA registered stretching device, with the hope that it can become a clinically recognised  conservative "stretching" option to treat Phimosis.  
The Novoglan-01 clinical trial to confirm safety, efficacy and tolerability of the Novoglan product in treating adult  phimosis, received ethics approval at Macquarie University Hospital in late 2019.  
When elective procedures were put on hold, universities closed and social distancing become necessary due to the  pandemic, less patients presented to specialist clinics, so less were identified to be considered for the trial. With  recent ethics approval for a second trial site at the Princess Alexandra Hospital in Brisbane, the trail is again actively  recruiting patients.  
"This is the world's first clinical trial of an Australian-designed and developed conservative treatment for  adult Phimosis, whereby we aim to confirm safety, efficacy and tolerability of a specific purpose-designed product," said Professor Gillatt, the Clinical Investigator Lead of the Novoglan-01 Clinical trial, who sees there is a real un-met  need for more conservative options in treating this condition.  
"We have men aged in their early 20s through to older men in their 60s currently enrolled in the trial, and it is  encouraging to see positive anecdotal feedback so early into the trial," commented Professor Gillatt. 
"Older men can also develop Phimosis due to scarring, infection or inflammation or trauma – think zipper injuries or  scaring from an accident. We are also aware that some medical conditions, such as diabetes, may lead to a build-up of glucose in the urine that can contribute to thickening of the foreskin and scaring that can lead to older onset  phimosis," said Professor Gillatt.  
An uncomfortable male health issue 
"This is a physical condition that has a profound impact: depression, relationship issues, social withdrawal, sexual  dysfunction and reproductive issues and anxiety with regard possible surgery," said Andrew James, CEO of Platigo,  who first developed Novoglan with a colleague over 15 years ago. 
"By encouraging men to be more comfortable discussing these types of men's specific health issues, this research  may put Phimosis and many other men's specific health issues "on the radar", so those men suffering in silence can  give their conditions a name and seek help," said Andrew James. 
"Medical appointments are still allowable under the current health orders, and just two face-to face appointments  are needed to participate in the clinical trial. Daily stretching is done in the privacy of participants homes, so for  many men, the current lockdown presents the perfect opportunity for them to enrol, help themselves and help  others," said Andrew. 
Over a dozen men have already completed or commenced their 8-week trial, and it is hoped that a total of up to 30  men will take part in this research. Results will help update current treatment guidelines to potentially include  Novoglan, the only kit of its kind listed on Australia's strict Australian Register of Therapeutic Goods (ARTG), as a  recommended conservative treatment option for men with adult phimosis. 
To help raise awareness of Phimosis, and encourage Australian men to open up and start talking about the  condition, the Phimosis Foundation of Australia developed a series of free downloadable posters and is asking  that they be displayed in bathrooms and change rooms around the country.  
If you, or a man you know, is living with Phimosis, they can discover more about the Novoglan-01 clinical trial at  www.phimosisfoundation.net.au or send a confidential email to Maizie.Barakat@muh.org.au. 
Together, we can pull back the shame to get men talking about – and do something about – Phimosis.  

ABOUT THE NOVOGLAN-01 CLINICAL TRIAL
To qualify for the trail, men must be aged 18 years of age or older and able to attend two appointments at either  Princess Alexandra Hospital in Brisbane or Macquarie University Hospital in Sydney. Participation is free of charge  for eligible Australian residents, and some basic travel and reasonable parking costs will be covered. Once the  clinical trials unit confirm men meet the inclusion criteria, participants will need to a referral from a GP. During the  trial they will be under the care of either Professor David Gillatt, Clinical Investigator and Clinical Urologist, Sydney  or Associate Professor Eric Chung, Clinical Urologist, Brisbane and their respective specialist Urology nursing  staff. The Novoglan medical device will be provided free of charge as part of the trial. Novoglan is a TGA listed class  1 penile foreskin stretching kit supplied as a procedure pack that delivers home-based treatment using gentle,  regular and even pressure to help stretch a tight foreskin. When used correctly over several weeks, Novoglan aims  to gently stretch the skin of the foreskin gently, and in some cases avoid the need for irreversible surgery.  
REFERENCES 1. Raj BP, Qureshi A, Kadi N and Donat R. How painful is adult circumcision? A prospective, observational cohort study. J Urol. 2013  Jun;189(6):2237-42. 2. Schöberlein W. Significance and incidence of phimosis and smegma. Munch Med Wochenschr. 1967 Feb 18; 108 (7): 373-7.  3. Morris, Brian J et al. "Estimation of country-specific and global prevalence of male circumcision." Population health metrics vol. 14 4. 1 Mar.  2016, doi:10.1186/s12963-016-0073-5 4. Douglawi, Antoin, and Timothy A Masterson. "Updates on the epidemiology and risk factors for penile  cancer." Translational andrology and urology vol. 6,5 (2017): 785-790. doi:10.21037/tau.2017.05.19 

ABOUT PROFESSOR GILLATT | SYDNEY
Lead clinical investigator in the Novoglan-01 clinical trial to confirm safety,  efficacy and tolerability of the Novoglan product in treating adult phimosis.  
David Gillatt has a keen interest in men's health specialising in urology conditions. He is both Professor of Urological  Oncology and Robotic Surgery and Director of Medical Services at Macquarie University Hospital. Professor Gillatt has  been closely involved with developing new treatment protocols for Phimosis over the past four years. He also has  expertise in the discovery and optimisation of biomarkers for early prostate cancer diagnosis and prognosis, and in  the effect of ketamine abuse on bladder function and has a keen interest in advances in robot surgery – a speciality  area of medicine that he has pioneered. Professor Gillatt was the Medical Director of the Bristol Urological Institute  with a focus on teaching, research and clinical practice in urology. Professor Gillatt offers leadership across both the  Faculty of Medicine and Health Sciences and Macquarie University Hospital in the delivery of clinical services, teaching  and research while delivering outstanding patient care.  
ABOUT ASSOCIATE PROFESSOR CHUNG | SYDNEY & BRISBANE Clinical investigator in the Novoglan-01 clinical trial to  confirm safety, efficacy and tolerability of the Novoglan product in treating adult phimosis.  
Associate Professor Eric Chung is a consultant urological surgeon at the AndroUrology Centre for Sexual, Urinary and  Reproductive Excellence in Sydney and holds academic appointments at the following universities- University of  Queensland (Brisbane, Australia), Macquarie University Hospital (Sydney, Australia) and Shenzhen Hospital-Hong Kong  University (Shenzhen, China). He has a public appointment as consultant urological surgeon in the Princess Alexandra  Hospital in charge of the urinary reconstructive and prosthetic urology program. A certified Fellow of the Royal  Australasian College of Surgeons (RACS) and Urological Society of Australia and New Zealand (USANZ), he is the first  urologist in Australia to complete an Andrology Fellowship that is accredited by the Sexual Medicine Society of North  America (SMSNA) in 2010. He has also received formal fellowship training in Urinary Reconstructive and Prosthesis  Surgery in 2009. He serves on many national advisory committees and international organizations, is the Chair of  Andrology (Men's health) section at Urological Society of Australia and New Zealand (USANZ) and is the Secretary General of Asia Pacific Society of Sexual Medicine (APSSM). He runs a wide range of clinical trials and publishes  extensively in the field of urinary, sexual and prosthesis research. 
ABOUT ANDREW JAMES | SYDNEY Co-Inventor of the product being used in the Novoglan-01 clinical trial to confirm  safety, efficacy and tolerability of the Novoglan product in treating adult phimosis. 
Andrew James is a Sydney based inventor who has always had a keen interest in patient-centric design, with a current  focus on men's health issues. With formal studies in Psychology and Economics, he served as the chairman of the  Australian Information Industry Association of NSW for 4 years, providing a forum for the exchange of ideas for those  IT and process-driven professional with a common interest in the emerging speciality of eHealth to share ideas and  information. He has designed and developed clinical information systems for complex and chronic diseases like  cancer, kidney disease, transplant medicine, doctor to doctor communication, as well prescriptions and patient  management plans. Andrew was the winner of the ABC New Inventors People's Choice Award for a novel IT tool he  developed for doctors in 2006/2007 that facilitated a safer hand over patients between shifts - a dangerous period for  patients when some information can be lost between doctors. Andrew is currently the CEO of Platigo Solutions Pty.  Ltd., an Australian owned company that manufactures and markets medical products globally. NOVOGLAN was listed  on the TGA in 2006 and is now sold world-wide. 
ABOUT THE FORESKIN & PHIMOSIS
All boys are born with a foreskin - the skin that covers the top of the glans penis.  For uncircumcised boys, the foreskin is attached and gradually loosens naturally, and by the age of around six it  usually can easily retract. However, for some boys, this does not happen and they have an uncomfortable puberty,  and growing into adulthood, these men have a foreskin that is so tight it does not pull back properly making  intercourse, cleaning, urinating or ejaculating difficult – leading to hygiene and reproductive complications. Left  unresolved however, it can become problematic. Currently, treatment guidelines for adult phimosis are limited to a  steroid cream or an adult male circumcision. Phimosis is different for each man – it ranges from being just a little  uncomfortable through to being so tight that is almost totally covering the head of the penis – called Pinhole  Phimosis. Some men have described the feeling as having a small elastic band of skin at the end of their foreskin that  stops the skin expanding.


Techniques used in cutting edge elbow surgery 15 years ago led to an Australian innovation - a non-cut  solution for Phimosis that is helping men improve their quality of life worldwide.  
Phimosis, a condition where the foreskin covering the glans penis is tight and cannot be retracted, is such a  personal problem that it is very rarely discussed. Sadly, many men either put up with it, or leave it until it is too  late which may lead to other health complications, with a painful adult circumcision often considered inevitable. 
"Our design process has always been patient-centric," said Andrew James, co-founder and CEO of Platigo  Solutions Pty. Ltd. and the inventor of the patented Novoglan system. 
"It all started as the result of a casual remark by a colleague back in 2006, with him confiding that the cause of  his depression was linked to this painful and embarrassing condition," said Andrew.  
"His dilemma stuck in the back of my mind." 
Together with the product's co-founder, Andrew saw first-hand the cause and effect of this man's depression.  
"We then discovered that other men in our network had similar issues. It manifested as anxiety, social  withdrawal and affected their sexual relationships. Phimosis was having a profound impact on the men that  were living with the condition, and the flow on effect on their partners, friends and families was obvious once  you understood what the problem was," commented Andrew. 
"At the time, I had been reading about how surgeons were using a new technique to stretch the skin around the elbow in preparation for reconstructive surgery and wondered if a similar technique could be used to stretch the delicate skin of the foreskin. 
"We looked at what would be involved and knew from our initial research that a quick fix could cause more  damage," said Andrew. 
For a successful outcome, the stretching needed to be gentle, regular and provide a gentle pressure. There is  real science behind the amount of pressure needed and the way that the skin is stretched, so Andrew and his  colleague set to work to put research into practice. 
The first generation of Novoglan, using a latex balloon and a syringe, became the protype which was used by a couple of men who were part of those original confidential discussions. After receiving favourable feedback,  the team at Platigo developed a self-contained kit that men could use in the privacy of their own home. 
"It was important to us that the device was easy to use and really met the needs and expectation of men faced  with the option of losing their foreskins," said Andrew. 
"I personally have spoken to hundreds of men and listened to their concerns and individual experiences. Over  the past 15 years, we have tweaked the product to make it easier to use, give more long lasting results and offer  a real choice to men faced with the prosect of having irreversible surgery," he said. 
The Novoglan device was listed on the TGA in 2010, and since then Andrew has implemented significant design  changes to aid both comfort and ease of use, such as replacing the syringe with a squeeze pump style handle.  Now in its seventh generation, the TGA listed NOVOLGLAN penile stretching device is currently trialling a new  silicon-based balloon. 
"We had looked at other methods for inflations and drew inspiration from the pump that doctors use with  blood pressure testing, and so we updated the Novoglan kit with a soft squeeze pump that made a huge  difference to how the product was used.  
"Our most recent advance has been to now offer a silicon balloon as well as the latex option. This not only  means that those men with a latex allergy now have the chance to see if this conservative route might work for  them, but it seems to be providing even more impressive results." 
Andrew is delighted that from an off-hand remark, he has been instrumental in helping men around the world  make informed choices in the treatment of Phimosis and hopes that the current limited treatment guidelines can be updated to offer more patient freedom in the decision making process. 
A clinical trial out of Macquarie University Hospital is currently assessing the safety and efficacy of Novoglan as a more conservative treatment option. As well as assessing how well this more conservative option is at gently  and safely stretching the skin of the foreskin, it is also analysing quality of life data.  
At the conclusion of the trial, it is hoped that the results will help introduce this more conservative option into  the standard treatment guidelines for Phimosis, to offer men and their doctors an additional option before  looking to surgery.  
Details of the Novoglan-01 clinical trial to confirm safety, efficacy and tolerability of the Novoglan product in  treating adult phimosis, can be found on the Phimosis Foundation of Australia website – with clinical trial  registrations currently available to men in Brisbane and Sydney. Registration can be made confidentially online  at www.phimosisfoundation.net.au or by sending a confidential email to the clinical trial project  coordinator Maizie.Barakat@muh.org.au. 
NOVOGLAN is a TGA listed class 1 penile foreskin stretching kit supplied as a procedure pack that delivers home based treatment using gentle, regular and even pressure to help stretch a tight foreskin.