Jason Hodges top tips on sustaining a healthy garden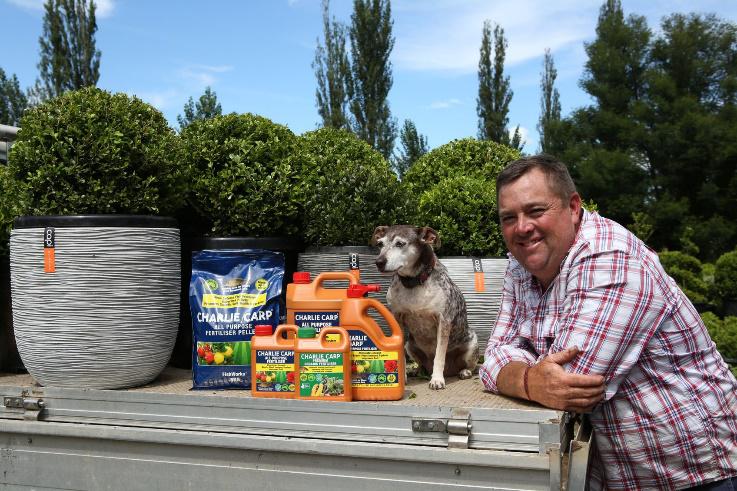 Green Innovation for Garden Health
Australian organic based liquid fish fertiliser, Charlie Carp, helps sustain a healthy garden and cleans our waterways
According to Landscape and Garden Expert, Jason Hodges, feeding your garden and lawn with an organic based all-purpose liquid fertiliser is as important as feeding children healthy food. Plants, lawns and soil benefit from the range of nutrients available, helping them to survive and thrive. Organically based lawn and garden fertiliser, Charlie Carp, is an innovation in garden care, as well as playing an integral role in helping to stabilise Australia's natural ecosystem and sustain a healthy environment.
Charlie Carp fertiliser is made in Australia from the invasive and destructive European Carp fish, an introduced species that destroys Australia's delicate river ecosystems and displaces native fish. European Carp lay over one million eggs per year, that is, three times that of native fish. They damage rivers by muddying waters and destroying native aquatic vegetation, and complete with native fish for habitat.
Helping to clean up the unique waterways of Australia, like the Murray River, Charlie Carp utilises the whole fish in the manufacturing process ensuring nothing goes to waste and, in turn, providing an almost perfect balance of vitamins and minerals for plants, soil and grass.
"The best choice for fast results in the garden is liquid fertiliser as it's quick acting, allowing the plant to absorb both the micro and macro nutrients through the foliage quicker than any other fertiliser," says Jason. "The result being plants grow bigger, stronger and less prone to disease and pests. It also keeps them healthy during winter, thriving in spring and surviving through a hot summer – it's a complete, all-purpose fertiliser."
Being all natural with no chemicals means Charlie Carp is ideal for veggie patches and edible gardens, "it's like a one-stop-shop for your whole garden. It's safe to consume and will help every plant. You can even use it at half-strength for native gardens. Improving soil quality also helps in replenishing older soil saving money, time and labour," says Jason.
Fertilising your garden is an important step in preparing for spring. "Working in the garden during the cooler months is ideal as it's not too hot, so you can work for longer and accomplish more," he says. "And there's nothing better than being able to step back come spring and marvel at your handiwork!"
Here's Jason Hodges' top tips for preparing your garden for spring to ensure your outdoor space is a thriving green paradise in no time:
To help your soil reach optimum levels come spring, fertilise anywhere between every six weeks and every three months for ultimate growth. Charlie Carp is perfect for any garden or lawn type.

Mulch, mulch, mulch! Mulch insulates soil and acts as a buffer from cold temperatures. It also helps to retain water and keep roots moist.

Remove any damaged branches that you can see on your deciduous trees.

Prune your trees and bushes so they have the best chance to bloom in spring.

Pick up fallen leaves regularly so your lawn gets as much sun as possible.

Winter is a great time to start a herb garden. Herbs such as rosemary, thyme, basil and lemongrass are hardy and very easy to grow, whether you have a balcony apartment, quarter acre or acreage. Start with herbs and then add vegetables.
"Start on your garden now and it will be healthy and strong for Spring. Not only are you looking after your environment at home, you're also looking after our environment as a nation and helping to preserve our most precious resource – water," says Jason.
Charlie Carp fertiliser products are available from Bunnings stores nationally and include Charlie Carp Concentrate (1 Litre RRP$10.98, 5Litre $47.98), Charlie Carp Organic Concentrate (1Litre $11.28) and Charlie Carp Hose-On (2.2Litre $10.79)
For more information visit www.charliecarp.com.au
About Mayo Hardware


First established in 1928, Mayo Hardware Pty Limited is proudly recognised as a supplier of value to the retail, trade, government and commercial markets in Australia, New Zealand and selected export markets. Mayo Hardware hold a market leading position in outdoor lifestyle, safety, security and hardware categories. We work with our customers and end-users to create value that can be captured and shared. This is achieved through superior product offering, customer support and working closely with partners to fully understand their requirements to create the best programs to meet their needs.