Top tips for styling your outdoor space this season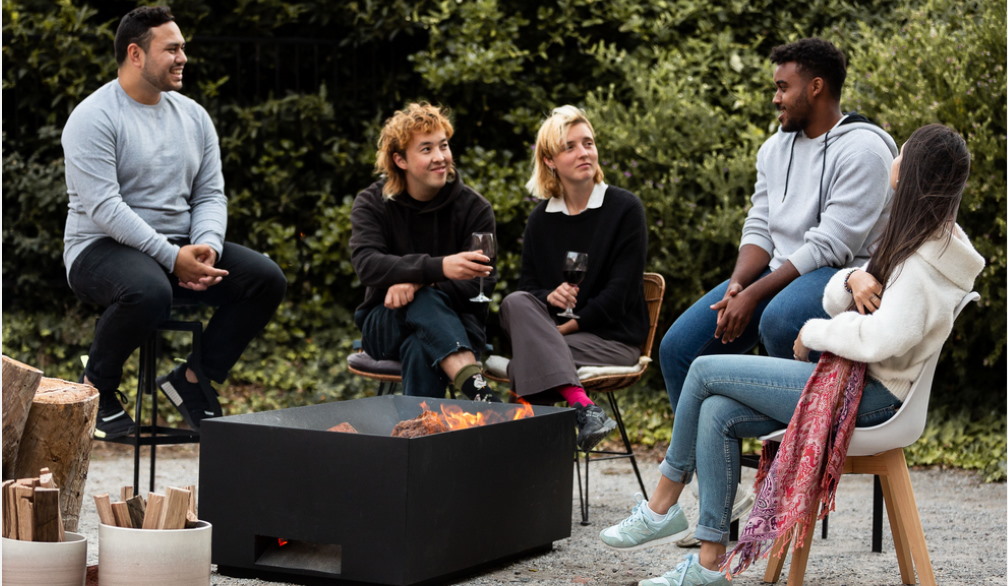 Transform Your Garden and Make It Glow
Backyard fire pits are becoming increasingly popular as we look to utilise the outdoor space in winter with functional landscaping features. Essentially, a fire pit is the new water feature; it's a great addition to the backyard, transforming the outdoor area into a cosy and inviting space - perfect for those winter evenings and bringing outdoor moments to life.
The ambience a fire pit brings is worth the investment alone, providing an enjoyable feature for the garden and a natural gathering spot for socialising and entertaining. It's a great focal point and people are naturally drawn to the campfire-like atmosphere.
No matter what size your backyard is, you can add style, personality and flair and there are many options to make the most of your garden space. Whether you have a small courtyard or a large-sized family backyard it is all about making the most of the space you have.
Here, Jacqueline Hughes, Glow expert and National Outdoor Heating Product Manager shares her top tips for styling an outdoor space.
Smart thinking for small spaces 
Generally, the size of Australian backyards is becoming smaller. For backyards and terraces looking to maximise their outside space, think smart with solutions such as multi-purpose pieces and in-built seats. A timeless Glow fire pit design that strikes a brilliant balance between size, design, and finish, the Tambo Fire Pit (RRP $69) is perfect for more intimate areas such as terraces and patios where space is at a premium.
The Tambo Fire Pit features a 56cm wok, with the deeper bowl delivering maximum fire for smaller spaces. It is complete with log storage for when not in use and finished in weathering steel that will deepen in colour over time when exposed to open outdoor Australian conditions.
Creating structure
Creating structure or zones in the backyard is a great way to work the space effectively, with areas for playing, eating, cooking and relaxing. Defining these zones using fencing, plants or materials such as pavers, pebbles or decking, can give each space its own impact and character. For a polished landscape look, choose a fire pit design like Glow Oakridge Fire Pit (RRP $299). With its sleek, modern defined shape, Oakridge is an architectural statement and is the perfect outdoor lifestyle 'feature piece' that become the heart and soul of the garden year-round.
Coastal chic
We all have fond memories of a holiday by the sea or aspirations to retire by the coast. Creating a coastal style garden is one way to enjoy your personal coastal sanctuary all year-round. Landscape the garden using hardy plants and nautical props to create that beachy feel. Light coloured decking and pebbles are a great way to enhance that beach vibe whist adding texture and light to the garden. Add a fire pit such as the rustic Tambo Fire Pit to help set the scene.
Gardening landscaping
If you want to enhance your space with variety and different levels to draw the eye in your garden, incorporate a garden screen to create the height change and then add shrubs and plants of different heights. They will give a splash of much needed greenery in winter, as well as providing the ideal backdrop for your entertaining area. Glow Aurora Fire Pit's (RRP $199) durable rusted finish and unique geometric designed base offers a striking structured look, with the idea that less is more. Its elevated design is best suited for a larger backyard, creating a real winter entertaining space and presence.
Light it up
As we settle into shorter winter days, a well-lit garden is essential if you want to continue entertaining into the night. The product options in outdoor lighting offer different styles to create a range of looks for entertaining. Consider combining the natural light of a fire with warm string lights around the parameter of the area. For smaller, intimate entertaining consider using fairy lights throughout the garden and around vertical poles. For more formal entertaining, consider festoon lighting which will completely transform the look and feel of your area. Whatever you decide, do not underestimate the value in stronger, practical lighting around the outdoor dining table, as no one likes eating in the dark!
When deciding on the best fire pit for your home, remember safety comes first. Ensure appropriate clearances as per recommended guidelines, and never place the fire pit on a combustible surface.
For more information, visit www.glowheating.com.au.
About AMES Australasia
AMES Australasia develops, sources and supplies innovative products that help enhance the homes, landscapes and lifestyles of all Australians. The company owns a range of iconic lifestyle brands including Glow, Cyclone, Hills, Nylex, Northcote Pottery, Tuscan Path, Westmix and Kelso.
About Glow
Bring outdoor moments to life with Glow's collection of fire pits. Glow's fire pits are designed for outdoor entertaining in Australian backyards with safety options and attractive designs at great value.