The Australian couple who used first hand experience to build a skincare range for men
Written by

a Staff Writer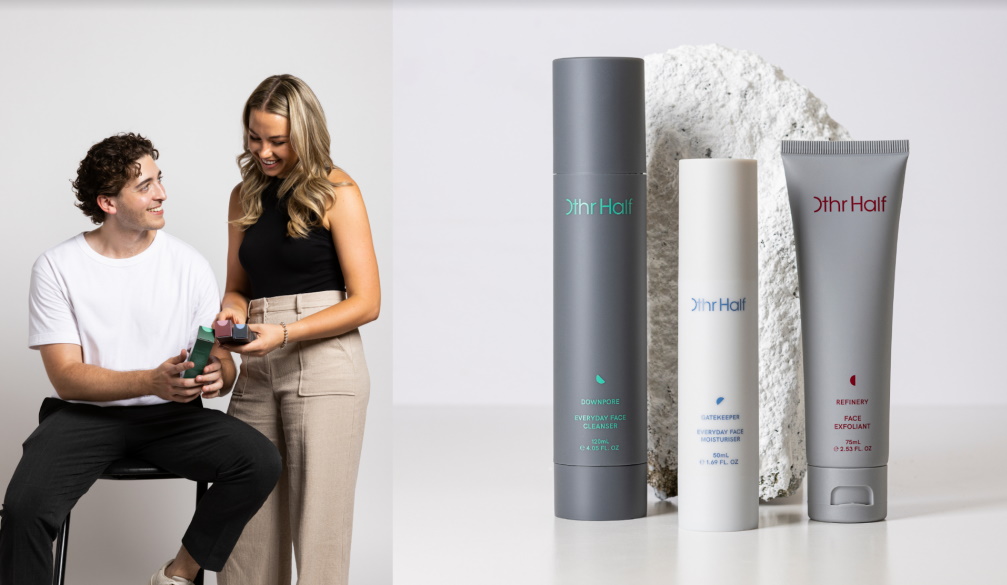 A premium 3-step skincare system that is putting guys on the path to better skin.
An Australian couple has launched a skincare brand for men that is driven by experience, knowledge, and an understanding of what men are looking for when it comes to a simplified skincare routine.

Founders Tim and Tanis, 27, from Brisbane, launched Othr Half in April 2022 after noticing that not enough was being done to normalise men using skincare.

In 2020, they set out to build their own brand from the ground-up alongside notable Australian natural cosmetic formulators, developing a range of products that utilise powerhouse natural ingredients. The result is a premium routine-based solution, called Baseline.

Baseline consists of three products:
Downpore: Everyday Face Cleanser
Featuring: Licorice Root Extract, Willow Bark Extract, Salicylic Acid, and Green Tea
Refinery: Face Exfoliant
Featuring: Pineapple and Papaya Enzymes, Activated Charcoal, Jojoba Beads, and Benzoic Acid
Gatekeeper: Everyday Face Moisturiser.

Featuring: Kakadu Plum Extract, Hyaluronic Acid, Squalane, and Vitamin E
The set was approached with a thoughtful eye for detail, as the pair were driven to simplify the process down to every detail, whilst ensuring overall quality and effectiveness of the respective formulas remained as the priority.

Further to this, they noticed that the men's grooming space had been known to be predominantly filled with overly masculine colourways of presentation, and so Othr Half packaging is a refreshing take on modern day masculinity, boasting a sleek matte grey finish across the range, with subtle drops of colour included where appropriate.

"It was from first-hand experience that we understood the importance of bringing Othr Half to market," said the duo.

Tanis, who worked directly with the cosmetics industry in Australia for 10 years, noticed men were becoming increasingly inquisitive about taking care of their skin. The only issue was, the decision-making process was riddled with confusion. From getting barely any guidance in the space, to feeling the options on offer were tailored specifically to the wants and needs of females alone, it became clear that guys were becoming extremely overwhelmed with the current landscape of the industry.

Tim, who until he met Tanis, never had a trusting source of education to show him what to use, and how and why he should use it, or even care for that matter. He understood that he couldn't possibly be the only male facing this situation, but realised he was fortunate enough to have a knowledgeable source of education in his partner to help guide him through the process.

Conversation grew over time between the two around the space and what was currently on offer.
In a bid to tackle recurring breakouts in 2019, Tim asked Tanis to give him something that would help to minimise the issue. After applying a few select lotions and potions, Tim asked "what makes this product so different from all the others that you've shown me."
Tanis' response? "Let me show you how the other half live," a subtle poke at the current landscape of the industry and how the world of skincare was being perceived at the time.  
This turned out to be a lot more powerful than the pair could have ever imagined, as this moment sparked a two-year journey to formulate a range of products that would counter common skincare concerns amongst males. On top of this, their goal was to develop a brand that would not only focus on providing high quality skincare solutions, but also talk to the importance of well-rounded self-care for the modern male. 
Now having launched, the message is clear: 
"We're here to encourage men to lead a more comfortable life. It only makes sense to start with more comfortable skin. Othr Half was created as a vessel to educate men on the benefits of simplified skin care routines, and the how and why of why it's important - something we felt wasn't receiving the attention it deserved. We're not only passionate about providing high-quality solutions to guys from all walks of life, we're serious about self-care as a whole."
You can view the Othr Half range here.