3 Best Places to Visit on the Gold Coast, Heaven of Surfing!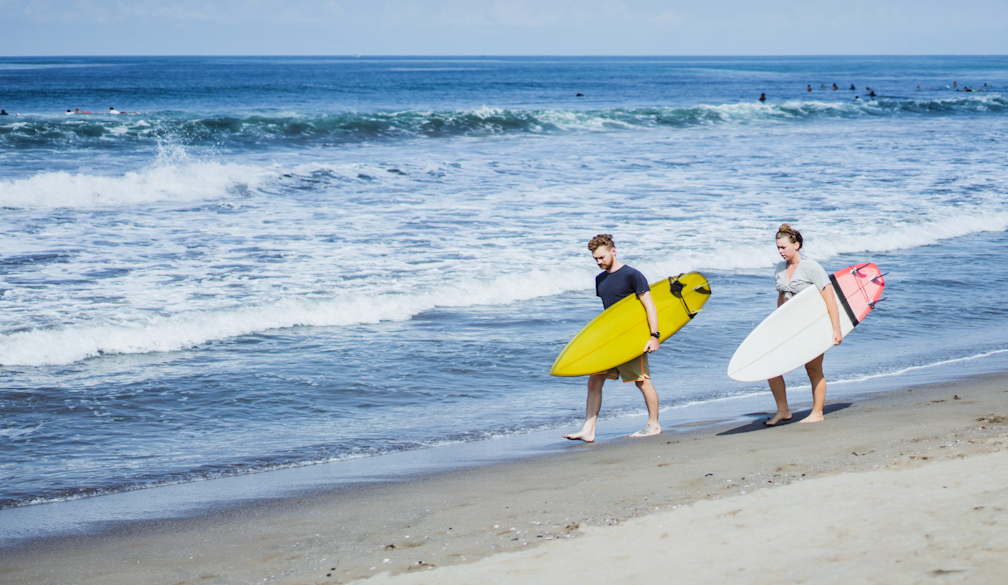 Based along Australia's stunning eastern coastline, the Gold Coast attracts travelers with its golden sands, world-class surf breaks, and a breathtaking blend of natural beauty and urban excitement. 
Before booking your flight to Gold Coast, there is important and interesting information you should know about the city. This includes the best places to visit and the available domestic routes.
Places to Visit on the Gold Coast
Known as the haven of surfing, what other fun things can you do on the Gold Coast besides surfing? Here are some of the best activities to consider.
1. Surfers Paradise
Surfers Paradise is the heart of the Gold Coast and a must-visit destination. Known for its iconic skyline, golden beaches, and vibrant atmosphere, it offers something for everyone. Stroll along the famous Surfers Paradise Beach, try your hand at surfing, or take a leisurely walk along the bustling esplanade. The area is also home to an array of restaurants, shops, and entertainment options, making it the perfect place to soak in the city's energy.
2. Currumbin Wildlife Sanctuary
Currumbin Wildlife Sanctuary is one of the Gold Coast's most popular and cherished attractions, renowned for its focus on conservation, education, and providing visitors with unique opportunities to interact with Australia's native wildlife. 
The sanctuary is home to a wide variety of Australian animals, including kangaroos, wallabies, koalas, wombats, and a diverse array of bird species. One of the highlights of the park is the chance to hand-feed kangaroos and cuddle koalas, providing a memorable and educational experience for visitors of all ages.
3. Lamington National Park
Nature lovers should not miss Lamington National Park, a World Heritage-listed rainforest paradise. Just a short drive from the Gold Coast, this park is a haven for hiking and birdwatching. The park's intricate network of walking trails, waterfalls, and stunning vistas will leave you in awe. Be sure to explore the treetop walkway for a truly immersive rainforest experience. 
Route Domestic to Gold Coast
Which areas offer routes to the Gold Coast in Australia? Below are some suggested domestic routes you can take to reach the Gold Coast.
1. Newcastle to Gold Coast
Located approximately 570 km from Gold Coast, you can travel from Newcastle to Gold Coast by airplane in approximately 1 hour and 4 minutes. One of the airline choices for this route is Jetstar.
2. Sydney to Gold Coast
As one of the biggest cities in Australia, you can visit the mesmerizing beaches of Gold Coast by airplane. The flight time is approximately 1 hour and 20 minutes. You have the option to choose between Qantas and Virgin Australia Airlines.
3. Melbourne to Gold Coast
If you start your journey from Melbourne, it is recommended to fly to Gold Coast to save travel time. The flight duration is only 2 hours and 5 minutes. Airlines like Jetstar and Virgin Australia Airlines are available for your convenience.
4. Adelaide to Gold Coast
To reach Adelaide, the best choice is to travel by airplane. It offers a relatively short journey of approximately 2 hours and 20 minutes, compared to around 22 hours of traveling by car!
5. Cairns to Gold Coast
With a distance of almost 1,843 km between the two cities, you have the option to travel comfortably to the Gold Coast by plane. Airlines such as Jetstar, Virgin, and Qantas can take you there.
Traveling Tips to Gold Coast
To enjoy your trip to Gold Coast to the fullest, these are some traveling tips to Gold Coast you might find helpful.
1. Sun Protection
The Gold Coast enjoys a sunny climate year-round, so don't forget sunscreen, sunglasses, and a hat to stay safe from the strong Australian sun.
2. Surf Safely
If you're hitting the waves, be mindful of surf conditions and obey any warnings. Lifeguards are on duty, so heed their advice.
3. Public Transport
Use the efficient G:link tram system to get around the city. It's a convenient way to explore. 
With careful preparation, you can have a fun and exciting vacation on the Gold Coast. To make your holiday even more complete, download the Traveloka application to book hotel rooms and plane tickets!