5 Strange Places You Need to Visit in Australia
Written by

NewsServices.com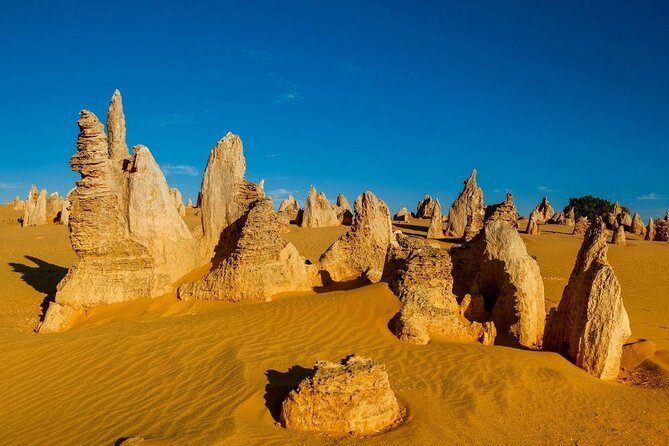 Without question, Australia is among the most gorgeous places on the planet. The jaw-dropping Great Australian Bight, the unique Uluru, and the stunning Great Barrier Reef are all found there.  However, you are well aware of this.
You may not understand that Australia is home to many of the planet's oldest tourist destinations. You'll undoubtedly discover something that you have to see to comprehend, from UFO capitals to pink lakes. As a result, we've compiled a list of the oddest sites in Australia, which you must see.
The Pinnacles
This is the place to go if you want to have an unearthly adventure. The Pinnacles Desert is characterized by a large number of spooky limestone pillars which stand up to 4 metres tall and are dispersed around Nambung National Park. This section of the nature reserve is popular with visitors and artists, particularly at twilight and morning, when the scenery resembles Mars.
Tourists are interested in examining western grey kangaroos and emus when touring the region, which is alive with nightly wildlife. From August through October, wildflowers grow in the region. Interested in the best Australian online casino? Learn about them!
Port Arthur Ghost Town
Port Arthur, a historical convict camp in Hobart, Tasmania, is creepy even during the day. The settlement became a jail for Britain's worst offenders in 1833. Today, Port Arthur is a World Heritage Site that boasts Australia's most haunting location. The river is lined by torture chambers, prison facilities, institutional clinics, an asylum, and a town center, sharing tales of murder and terror.
Pink Lake
The odd pink waves of the Port Gregory Pink Lake may be seen a few miles north of Perth on the Western Australian coastal highway. The algae and saline concentrations in the lake lead the waters to become a vivid pink colour!
TIP: In Melbourne, a Pink Lake seems to have lately emerged. The lake is located beneath the Western Gate Bridge, and the best method to reach there from Melbourne's central business district is by vehicle or bike.
The Squeaky Beach
The immaculate Squeaky Beach, nestled on Wilsons Promontory, is known for its white sandy beaches and aquamarine seas.
The squeaky sound made by the granules of quarts whenever you walk down the sand gives this seashore its namesake. When you're a regular beachgoer in Australia, you've probably seen other squeaky shores, and this one takes the lead!
Wave Rock
In Hyden, Western Australia, Wave Rock is a large granite cliff that stretches 110 metres in length and 15 metres high. The natural stone structure is 27 million years old and resembles a giant wave breaking.
Wave Rock is said to have developed due to water and wind erosion. Hiking to the top of the cliff and soaking in the breathtaking scenery of the countryside will be a highlight for visitors.