Pew's new global survey of climate change attitudes finds promising trends but deep divides
Written by

Kate T. Luong, Postdoctoral Research Fellow, George Mason University
People's views about climate change, from how worried they are about it affecting them to how willing they are to do something about it, have shifted in developed countries around the world in recent years, a new survey by the Pew Research Center[1] finds.
The study polled more than 16,000 adults[2] in 17 countries considered to be advanced economies. Many of these countries have been large contributors to climate change and will be expected to lead the way in fixing it.
In general, the survey found that a majority of people are concerned about global climate change and are willing to make lifestyle changes to reduce its effects.
However, underneath this broad pattern lie more complicated trends, such as doubt that the international community can effectively reduce climate change and deep ideological divides that can hinder the transition to cleaner energy and a climate-friendly world. The survey also reveals an important disconnect between people's attitudes and the enormity of the challenge climate change poses.
Here's what stood out to us as professionals[3] who study the public's response[4] to climate change[5].
Strong concern and willingness to take action
In all the countries surveyed in early 2021 except Sweden, between 60% and 90% of the citizens reported feeling somewhat or very concerned about the harm they would personally face from climate change. While there was a clear increase in concern in several countries between 2015, when Pew conducted the same survey, and 2021, this number did not change significantly in the U.S.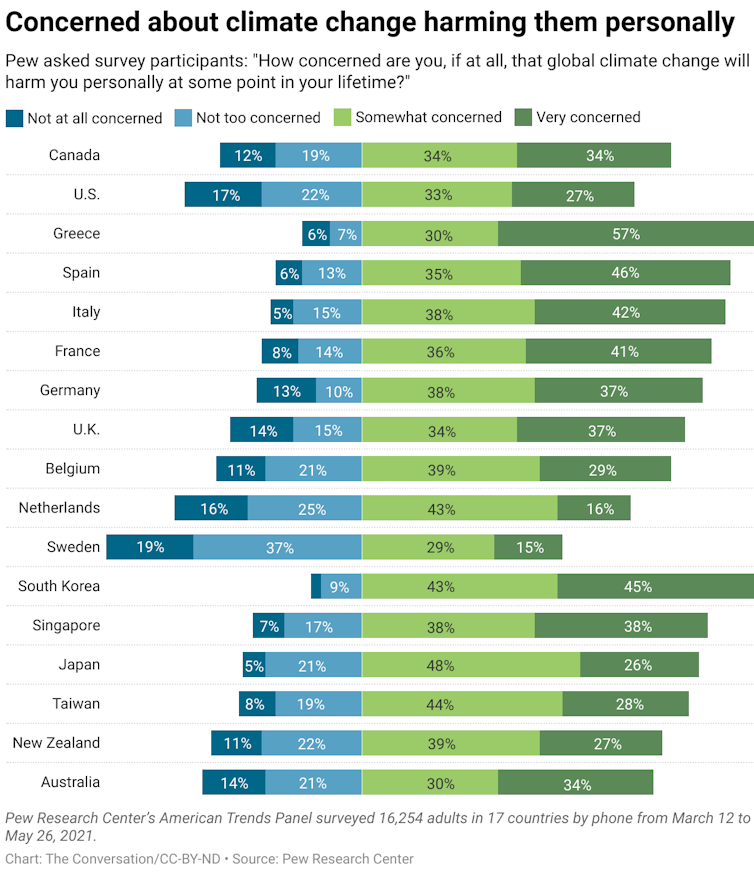 Read more https://theconversation.com/pews-new-global-survey-of-climate-change-attitudes-finds-promising-trends-but-deep-divides-167847