Healthy baked recipes for your Easter celebrations
The Easter long weekend is quickly approaching, and for many of us, that means a busy weekend packed full of family members, friends and children to entertain who are loaded up on sugar. 
If you're one of the (unlucky) ones hosting Easter celebrations this year and have a few extra mouths to feed, it can be incredibly stressful to cater to everyone's dietary needs while also baking something delicious. 
Fortunately, there are so many healthy alternatives to your favourite recipes that don't compromise taste for sugar. So, this Easter you can keep the little ones entertained with some baking while impressing all the adults around you with a bunch of new, healthy recipes. 
Below are some of the best recipes for baked goods, using Lakanto Monkfruit sweetener as a healthy sugar substitute. 
Raw Banoffee Pie (Vegan, Protein, No Added Sugar)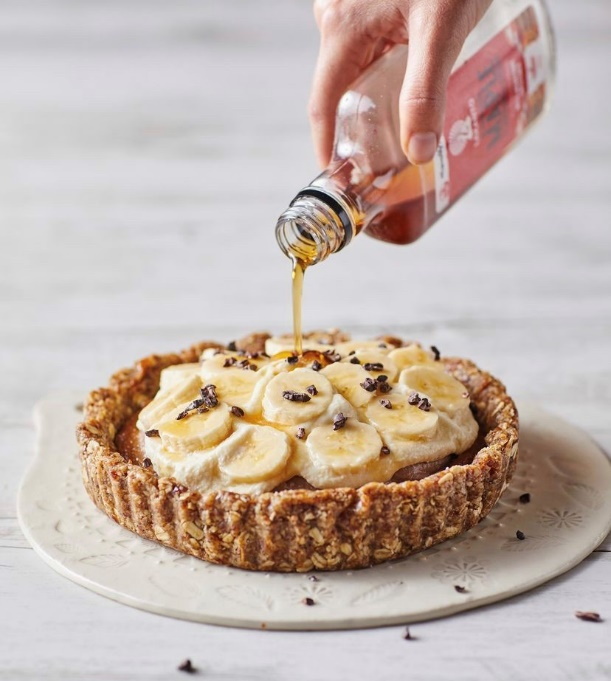 Ingredients
Raw Caramel Toffee:
1 cups (340 g) pitted Medjool dates
4 tablespoons (45 mL) smooth cashew butter
1 teaspoon (5 mL) fresh lemon juice
1/4 teaspoon fine sea salt
1 tsp vanilla extract
1/2 cup Lakanto Maple Syrup
1/4 cup hulled tahini
1/4 cup Lakanto Baking Blend or Lakanto Golden Sweetener
Pie Base:
1/2 cup (78 g) walnuts
 2 cups (200 g) rolled oats
1/2 teaspoon cinnamon
1/4 teaspoon fine sea salt
1/4 cup (60 mL) virgin coconut oil, melted
2 tablespoons (30 mL) Lakanto Maple Syrup
1 1/2 tablespoons (23 mL) water, or as needed
Filling:
2 cans full-fat coconut milk, chilled overnight*
Raw Caramel Toffee (from above)
3 large (600g) ripe bananas, sliced into thick "coins"
Cacao nibs 
Method:
Pulse all ingredients to form the base. Press into a tart/pie tin. 
Meanwhile, make the Raw Caramel Toffee: Add the pitted dates into a bowl and pour boiling water over top. Let sit for 5 to 10 minutes, or longer if your dates are firm.
Drain the dates and add them to the food processor along with the cashew butter, Lakanto Baking Blend, Lakanto Maple Syrup, tahini, lemon juice, salt, and vanilla bean extract. Process until smooth, stopping to scrape the bowl as needed.
Open the chilled cans of coconut milk and carefully scoop off the white cream from the top of the can, discarding the water. Add the coconut cream into a medium bowl. With electric beaters, beat the cream until smooth and fluffy.
On the base of the pie crust gently spread all of the caramel toffee using the back of a lightly wet spoon—until the base is covered. Slice all of the bananas. Place half of the banana slices on top of the caramel, pressing down lightly to adhere.
Spread all of the whipped coconut cream on top of the banana slices in an even layer. Now place the remaining banana slices on top of the pie in a circular pattern, overlapping and stacking them to create height. Garnish with cacao nibs and serve immediately.
Pour extra Lakanto Maple Syrup on if desired. 
Leftovers will keep in the fridge in a sealed container for up to 3 to 5 days.  
Toasted Marshmallow and Chocolate Fudge Oat Tarts (no added sugar)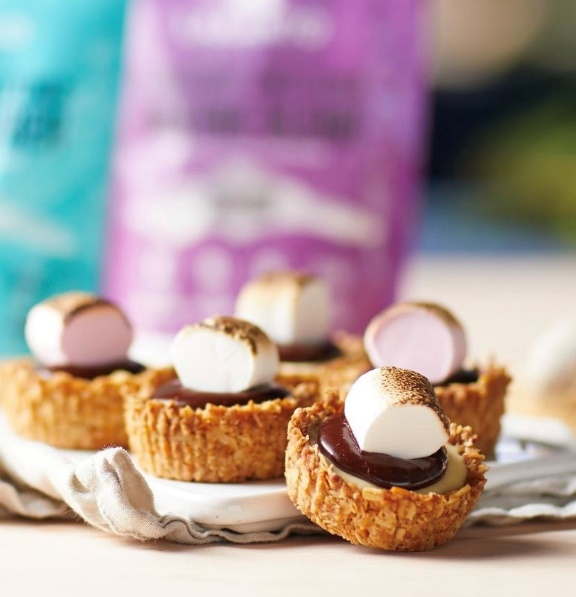 FOR THE CRUST:
1 cup quick-cooking oats
1/3 cup sifted all-purpose flour
1/3 cup Golden Monkfruit Sweetener
1/2 teaspoons salt
1/3 cup cold butter
FOR THE FILLING:
300g Cream cheese, room temperature
1/2 cup Classic Monkfruit Sweetener (Blended to a fine Powder) or Lakanto Icing Powder
 2 Whole eggs
 1 tsp vanilla extract
 FOR THE TOPPING:
1/4 cup Sugar free Chocolate 
 1/2 cup of Lakanto No Added Sugar Chocolate Topping 
100ml Double cream
30ml Coconut Oil
9 Sugar Free Marshmallows, toasted or untoasted
Method:
Preheat oven to 180 degrees. Line a standard cupcake pan with paper cupcake liners.
Mix the dry crust ingredients together in a medium bowl, then add in melted butter. 
Place a heaping tablespoon of the crust mixture in the bottom of each baking cup. Press gently to form an even crust.
Bake crusts in preheated oven for 5 minutes. Place pan on wire rack to cool while you prepare the filling.
Beat cream cheese and sweetener in a large bowl with an electric mixer until well mixed. Add eggs in one at a time and mix until incorporated.
Scrape the sides of the mixing bowl and add in vanilla extract. Beat until just blended. Use a large cookie scoop to evenly distribute the filling into baking cups.
Bake for 15-17 minutes or until just set.
Place pan on a cooling rack to cool completely.
Chill in a refrigerator for at least 2 hours.
To make the chocolate topping heat the cream, chocolate and chocolate topping together until melted then stir in the coconut oil until smooth. 
Once your cheesecakes are completely chilled, top each cheesecake with chocolate topping and toasted or untoasted marshmallows. 
Low Carb Raspberry Lamingtons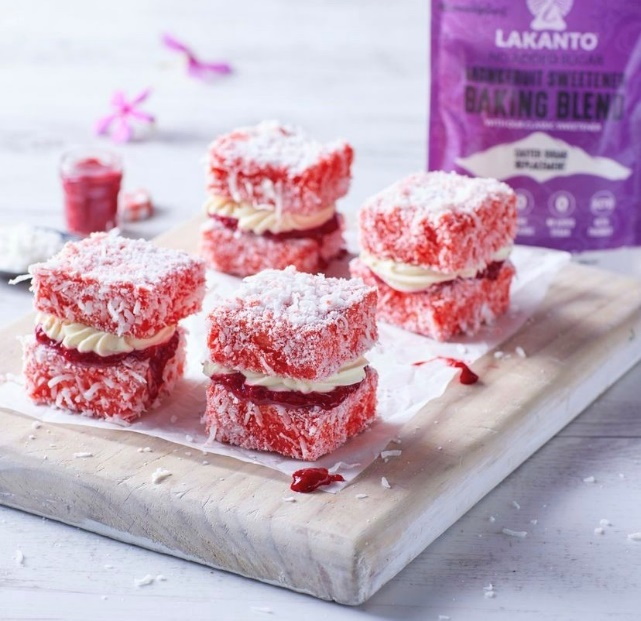 Ingredients:
Sponge
8 Whole eggs, separated
2 egg yolks
1Cup Lakanto Baking Blend
80g plain flour
3 Tbsp cornflour
2 1⁄2 Tbsp unsalted butter, melted
5ml (1teaspoon) vanilla extract
1⁄2 Cup desiccated coconut
Raspberry Icing
2 Tbsp unsalted butter
4 Tbsp strawberry sugar free jelly crystals (alternative
Gelatine Crystals and Raspberry Flavour)
1Cup Lakanto Pure Icing Powder
250ml Water
Raspberry Compote
2 Cups Frozen Raspberries
1 Cup Lakanto Baking Blend
1⁄2 tsp Vanilla Essence
2 tsp Arrowroot
1⁄4 Cup Water
Chantilly Cream
1Cup Double Cream
3 Tbsp Lakanto Pure Icing Powder
1⁄2 tsp Vanilla Essence
Method
Preheat oven to 180°C. Grease and line 25x 20 baking tray.
Place 10 yolks and 90g Lakanto Baking Blend in a bowl and beat until pale. Transfer to alarge bowl.
Sift the flours together, then fold into the yolk mixture.
Fold in butter.
Beat egg whites with remaining Lakanto Baking Blend and vanilla. Fold half the egg whites into yolk mixture.
Fold in remaining egg whites. Spread into pan, bake for 15 minutes. Remove from oven, cover with a tea towel.
Icing Place the butter and sugar free jelly crystals in a bowl, pour over 250ml boiling water and stir to dissolve butter. Sift in
icing sugar, whisk until smooth.
Set aside to cool slightly. Cut sponge into 12 squares, dip in the icing, then roll in coconut.
Compote Combine all the Compote ingredients into asmall pot and bring to the boil remove from the heat and allow to
cool.
Cream Filling For the Chantilly cream whip the double cream until it peaks then add the vanilla and pure icing powder.
Dollop the raspberry compote and cream between the two lamingtons. 
Lakanto Monkfruit Sweetener recently won the consumer voted Product of The Year Awards. To see the rest of the winners visit https://www.productoftheyear.com.au/